Bengaluru: On Sunday , hundreds of citizens are expected to descend on Ballari Road to form a large human chain along the length of the proposed flyover, to voice their opposition against the project.
Accordingly, the Congress led government under the leadership of CM Siddaramaiah has approved a 6.7 km steel bridge starting from Basaveshwara Circle to Hebbal. This particular proposal comes at the cost of a whopping Rs 1,791 crore and at a loss of over 812 trees and the destruction of many heritage buildings that the city took pride in. The flyover will have three up-ramps and four down-ramps and as many as 2,68,000 vehicles are expected to ply on it.
The city's anti-corruption activists, urban planners, environmentalists, civic activists, architects, artists, political activists, public policy experts, and resident welfare associations have united to protest under the banner Citizens Against Steel Flyover.
Citizens' groups have criticized the BDA for publishing only the salient features of the project but not the detailed project and feasibility reports, which are ideally public documents.  The public is expressing widespread outrage on public forums and social media under the #SteelFlyoverBeda tag. The campaign is being led by Prakash Belawadi, Naresh V Narasimhan, Priya Chetty Rajagopal, Ashwin Mahesh, Srinivas Alavilli, Anand Varadarajan and Bimal Desai and has many active participants from different walks of life.
The team has also taken the liberty to write open letters with a few questions to veterans and industrialists like NR Narayana Murthy, Azim Premji, Kiran Mazumdar-Shaw, Sachin Bansal, V Ravichandar, Mohandas Pai, K Jairaj, and RK Misra, among others.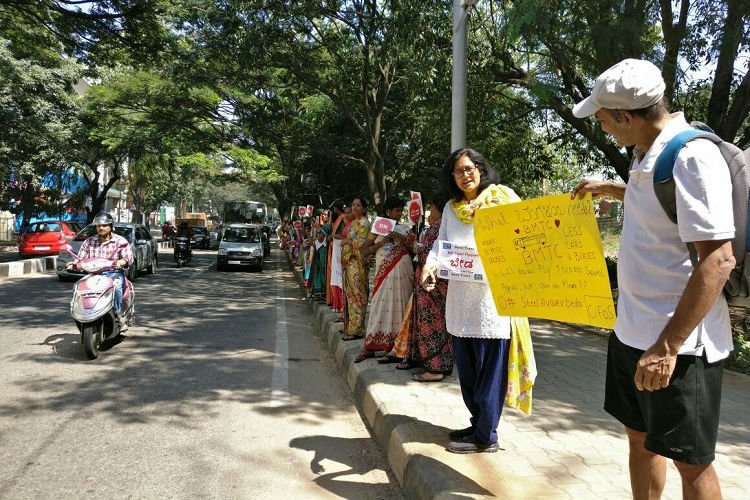 Bengalureans form human chain to protest massive steel flyover