Fasting during the festivities is nobody's favourite, but people all over India religiously follow the practice during the Navratri season to grow spiritually closer to God and to get their prayers answered. We know it can get really tough but it doesn't have to be a season of long faces and pouty mouths just because you can't have your favourite dish. There are a lot of healthy and equally tasty options out there that you can pick from.
We bring you a few which can make your fast much more enjoyable.
Samak Pulao
During Navratri Samak (millet) pulao is very popular and this twist by chef Osama Jalali, Masala Trail, Janpath will make the otherwise plain dish even more special.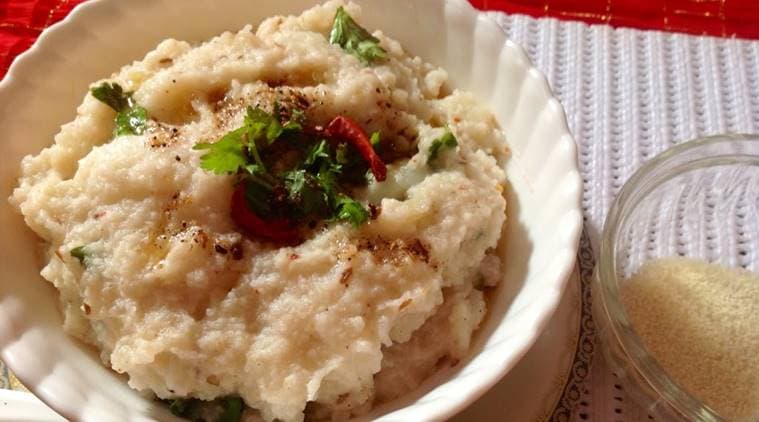 Samak pulao or vrat ke chawal are preferred all over India for their health and taste benefits.

Ingredients
200g- Samak rice
2tbsp – Desi ghee
A pinch of cumin seeds
¼ cup – Carrot
¼ cup – Beans
¼ cup – Boiled potato
Sendha namak to taste
2 pinches of black pepper powder
Water
Method
* Wash and soak samak rice for 30 minutes.
* Cut all the vegetables into small dices and keep it separately.
* Heat 1 tbsp desi ghee in non-stick pan, once heated add cumin seeds, carrot and beans to it.
* Now add 1 ½ cup of water to it and wait till water becomes hot.
* Add soaked rice, sendha namak and black pepper powder to it.
* Cook it on slow flame for 10 minutes and cover it with a lid. Steam will help it to cook evenly.
* Remove the lid after 10 minutes and add the remaining desi ghee and boiled potatoes to it.
Aloo gul gule
A delicious dash of spicy and sour never goes amiss to brighten your day. Try this aloo gul gule recipe by chef Jagdish Gupta, Kathputli, Delhi.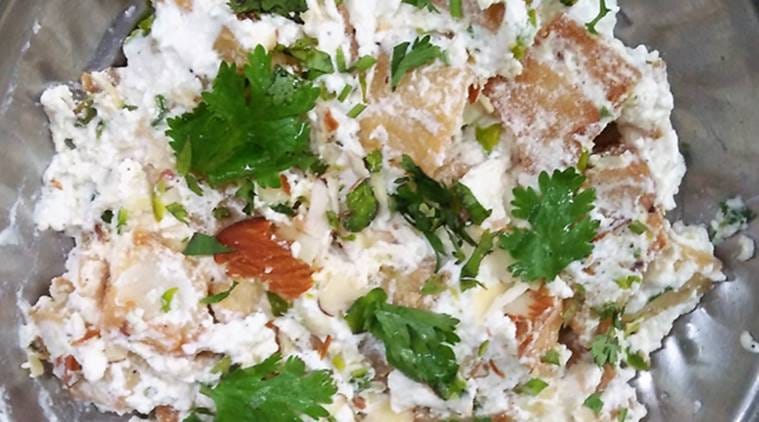 This refreshing and crispy dish will make your fasting a pleasure.

Ingredients
100g – Potato (cut into cubes)
1 slice – Ginger
1 – Green chili
100g – Hung curd
10g – Almond
10 seeds – Anardana
A pinch of white pepper
Sendha namak, as per taste
Method
* Cut potatoes into cubes and deep fry them till they are crisp.
* Now put fried potatoes in a bowl and add hung curd, thin slices of ginger, green chili, almonds and anardana to it.
* Keep it in the refrigerator for about an hour so that it is chilled.
* Before serving, add salt and white pepper to it.
Baklava
This Middle-eastern dessert recipe by Subrata Debnath, executive chef, Vivanta by Taj, Gurgaon will satiate all your sweet tooth cravings.
It is sweet and delightful and a sumptuous dessert eaten by the Turkish people.

Ingredients
100g – Crushed cashews
100g – Crushed almonds
100g – Crushed pistachios
50g – Butter (softened)
100g – Breakfast sugar
10g – Cinnamon powder
5 – Filo sheets
500g – Sugar
300ml – Water
Cinnamon stick
Method
* Brush the filo sheets with butter on one side.
* In a bowl, mix the crushed nuts, breakfast sugar, cinnamon powder and 30 gm of butter until well combined.
* Lay the filo sheets on a baking tray and apply a thin, even layer of the sweet nut mixture.
* Roll the sheets and brush the rolls with the remaining butter.
* Cut into 1½ inch pieces.
* Bake in a pre-heated oven at 170 degrees until golden brown.
* Make a syrup using sugar, water and cinnamon sticks.
* Apply a layer of the warm syrup on the baklava.
* Garnish with crushed pistachio.
* Serve at room temperature.
Makhana Chaat 
Makhana or fox nuts are a favourite during the festival season. They are healthy and tasty and obviously packed with lots of energy to keep you going throughout the day. Here's the recipe:
Ingredients
1 bowl – Makhana
1 – Cucumber, diced
1 – Boiled potato, diced
1 – Ripened tomato, diced
3tbsp – Low fat curd
1 tbsp – Imli chutney
Chopped coriander
Lemon (optional)
Method
* Heat a pan for dry roasting the makhana.
* Roast till it turns light brown.
* Ground the makhana to crumbs.
* Put the makhana crumbs in a bowl and add the diced tomato and cucumbers to it.
* Now, add boiled potatoes.
* Add the curd and imli chutney to it.
* Finally, garnish with chopped coriander.
* Your makhana chaat is now ready. Serve immediately.
Varai Dosa
If you are going to fast the whole day, make sure to eat a power-packed breakfast. But there's no need to trade taste for anything, because this Varai Dosa will make a perfect breakfast for you if you want to keep it light yet filling. Here's the recipe:
Ingredients
Samo rice or varai
1 – Boiled potato
1tsp – Cumin seeds
Salt to taste
Green chili paste
Finely chopped coriander
Method
* Soak the samo rice or varai in water overnight.
* Make sure you rinse the varai 3-4 times before soaking.
* Take a boiled potato and mash it.
* Put the varai in a blender along with water. Add the potatoes to the blender as well and make it into a puree.
* Your varai dosa batter is now ready.
* Make sure the consistency is a little on the thinner side.
* Season the batter with some salt and cumin seeds.
* Add green chili paste and finely chopped coriander leaves to it.
How to make the dosa
* Heat your pan over medium to high heat.
* Grease the pan with some oil and spread the dosa batter along the sides of the pan.
* Cover the pan and let the dosa cook for a minute.
* Take the cover off and let the dosa cook for another 2-3 minutes or until it gets a golden colour.
* Flip the dosa and let the other side cook as well. Give it another 3 minutes and your crispy, crunchy dosa is now ready to be served.
Sabudana Khichdi
Lunchtime during Navratri has to have Sabudana (Buckwheat) on the menu as it is considered a staple for people who are on a diet. Here's the recipe:
Ingredients
1 cup – Sabudana
1- Tomato, diced
1 – Potato, diced
1/2 cup – Peas
1/4tbsp – Red chili
Salt to taste
1/4tbsp – Black pepper
1 1/2tbsp – Ghee
1tbsp- Jeera or cumin seeds
Fresh coriander
Method
* Rinse the sabudana thoroughly and soak it overnight in water.
* Heat a pan on medium heat and grease it with 1 1/2 tbsp ghee.
* Add 1 tsp jeera and then add the diced tomatoes and green chili to it. Lower the heat to medium and saute till the tomatoes are mushy.
* Add red chili and black pepper to it. Now, add salt and the peas and the potatoes and mix well.
* Cook for 2-3 minutes until all the additions are cooked.
* Add the sabudana to the pan and mix well.
* Cover the pan and cook the mixture for 5 minutes on low flame.
* Your sabudana khichdi is now ready. Garnish it with green coriander and nuts if you like.
Aloo Kabab
Navratri dinner has to be something special and this mouth-watering Aloo Kabab recipe is the perfect way to end your day. Here's the recipe:
Ingredients
2 – Boiled potatoes
1 – Finely chopped green chili
1 – Finely chopped ginger
2tbsp – Samak rice
1/4 tbsp – Grounded black pepper
1/4 tbsp – Sendha namak or normal salt
Oil for frying
Method
* Grate the boiled potatoes in a bowl.
* Add the chili, ginger, salt and pepper to the potatoes and mix well.
* Take the mixture and mould it into round balls which can be fried.
* Spread some samak rice on a plate and roll these balls in it so that they are well coated.
* Now, heat some oil in a pan to fry your kababs in. Make sure to use high flame.
* Fry the kababs until they are golden brown. Keep on flipping them so that they are evenly cooked.
* Take them out and use a tissue to soak the excess oil.
* Your Aloo Kababs are ready. Serve with coriander chutney.