Priyanka Chopra is one busy lady. After slaying the red carpet of the 69th Emmy Awards in Los Angeles, Priyanka headed straight to New York City to attend the UN Global Goals Awards. There she spoke about the importance of empowering girls and also met the youngest goodwill ambassador of UNICEF, Muzoon Almellehan who is also known as The Syrian Malala.
Priyanka shared her experience of speaking at an international platform on her social media account. Along with her photo, Priyanka wrote, "In the words of Mahatma Gandhi… 'If we are to teach real peace in this world, and if are to carry on a real war against war, we shall have to begin with the children.' It was an honor to speak at the UN Global Goals Awards on the importance of empowering girls; addressing global leaders and influencers from the United Nations, philanthropy, media, non-profits and business. We all need to come together and work to empower, educate, create opportunities and impart skill sets so that we can be their catalysts for change and to help them build their brave new world. If possible, a safe one where they can live their dreams and laugh together as one."
All praises for the young girl, Muzoon Almellehan, Priyanka captioned her photo with her as, "I had the opportunity to meet @muzoonalmellehan, @unicef's youngest goodwill ambassador, who is doing such amazing work advocating education for Syrian girls. All in all, this was a very inspiring and uplifting night. #GlobalGoals #UNGA #ForEveryChild."
UN Global Goals Awards
At the awards ceremony which acknowledges the efforts of girls in changing their lives for good, Priyanka presented the Leadership Award to an Indian girl Ria Sharma who has been working for the acid attack survivors under her organisation, Make Love Not Scars (MLNS).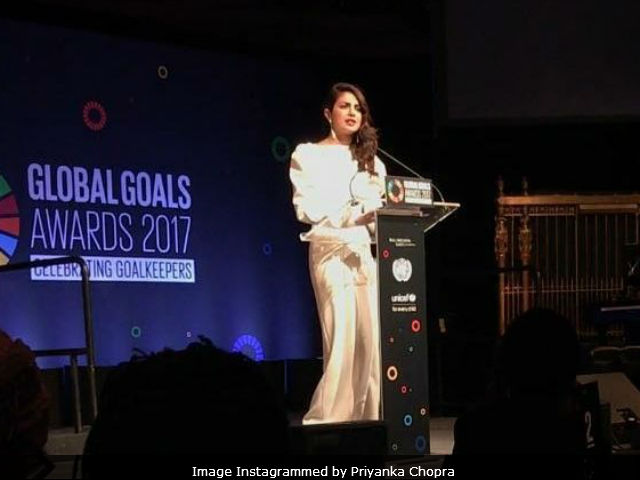 "Honored to have participated in the Global Goals Awards tonight at the UN General Assembly in NYC. These awards highlight the role girls play in changing their lives and in making progress towards achieving the Sustainable Development Goals (SDGs). Equally proud to have presented the Leadership Award to the amazing @ria13sharma from India for her stellar work for acid attack survivors," read the caption of Priyanka another photo from the event.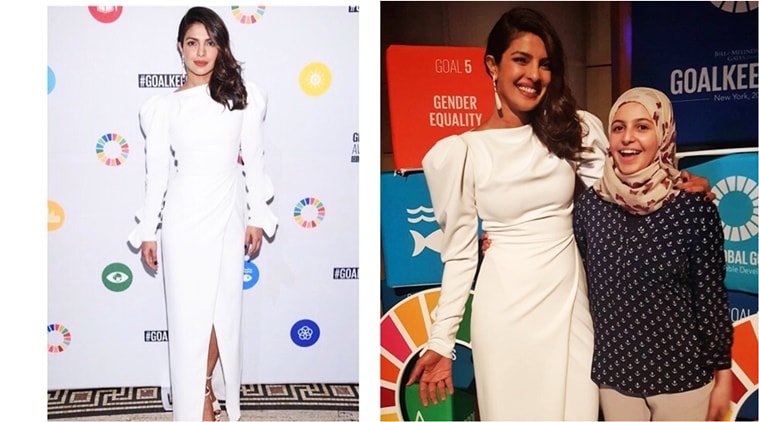 Earlier, the Quantico actor visited Jordan and also spent quality time with the children there. On her last day in the city, the actor had the privilege to meet Queen Rania there.