In a landmark decision, Saudi Arabia said on Tuesday it will now allow women to drive for the first time. Saudi Arabia was the only country in the world to restrict women from driving. For years, the ultra-conservative kingdom had attracted negative publicity globally for detaining women who defied the ban.
State-run Saudi Press Agency and state TV reported late Tuesday announcing that a royal order issued for both men and women to  issued drivers' licenses. It said a new committee will formed to implement the new order. Since the 1990s, women's rights activists have been pushing for the right to drive, arguing that it reflects their larger struggle for equality under the rule of law.
Rights to drive
In fact, Aziza Youssef, one of Saudi Arabia's most vocal women's rights activists, hailed the decision as a "great first step". In a statement to AP, Youssef said she "really excited" about Tuesday's announcement, calling it a "good step forward for women's rights". Youssef, who is a professor at King Saud University, further told the news agency that women will continue to push for an end to male guardianship laws that still remain in place, which give male relatives the final say on issues like the right of women to travel abroad, obtain a passport and marry.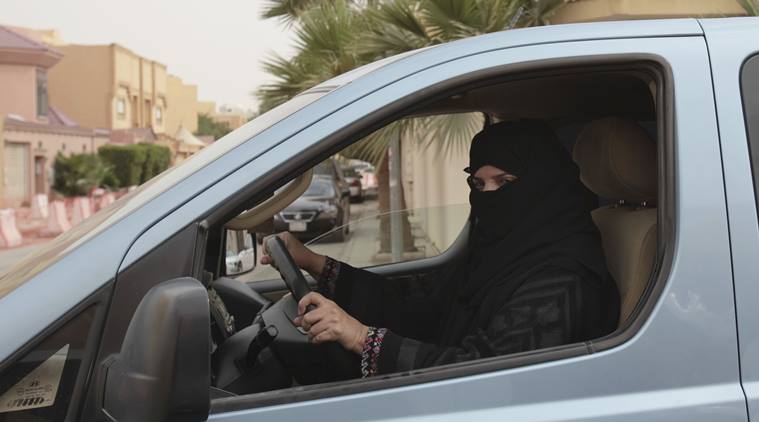 FILE- In this Saturday, March 29, 2014 file photo, a woman drives a car in Riyadh, Saudi Arabia, as part of a campaign to defy Saudi Arabia's ban on women driving. Saudi Arabia authorities announced Tuesday Sept. 26, 2017, that women will allowed to drive for the first time in the ultra-conservative kingdom from next summer, fulfilling a key demand of women's rights activists who faced detention for defying the ban.
The new Saudi ambassador to Washington Prince Khaled bin Salman commended the move as a "huge step forward" for his country. He told the media in Washington that it was the right time for Saudi Arabia to do the right thing, adding that the government in Saudi Arabia views women driving as a social issue, not a religious or cultural issue. Salman also clarified that now women won't need permission legally from a male guardian to get a driver's license and won't need a guardian in the vehicle with them to drive. He further added that Saudi Arabia will recognise driver's licenses issued to women in other Gulf Cooperation Council countries.
Donald Trump
The ambassador, however, said the decision to let women drive wasn't put into effect at the request of the US and that the issue did not come up for discussion during President Donald Trump's recent visit to the kingdom.
Meanwhile, US President Donald Trump praised Saudi Arabia's decision to allow women to drive. The statement from the White House press secretary's office says Trump viewed the change as "a positive step toward promoting the rights and opportunities of women in Saudi Arabia".
Saudi Arabia's latest move comes as the ultra-conservative kingdom works to improve its image and the perception of its human rights record in the United States and the West.