Back in 1997, when Salman Khan asked Karisma Kapoor and Rambha, "Oonchi hai building lift teri band hai, kaise main aaun?" the reply came in chorus from the fans of the cult hit Judwaa. And it remains the same for every 90s kid even after 20 years of the song's release. Amidst such frenzy of the audience, imagine the chartbuster given a modern twist with the added spice of new tunes, picturesque locales of London, ace-choreographer Bosco Martis' scintillating choreography and Varun Dhawan's antics to woo the pretty ladies Jacqueline Fernandez and Taapsee Pannu. Well, this is all that defines the "Oonchi Hai Building 2.0" which has released by the makers of Judwaa 2 on Thursday.
Taapsee who will getting into the part played by Rambha in the original movie is in her elements in the song and as you see more of her, you will end up playing the video on a loop. Varun is a delight to watch as both tapori Raja and nerdy Prem. Jacqueline is as glamorous as ever in the foot tapping number. And as the trio sings, "Aaja aaja aaja mere Swagger wale Raja" you will forced to hit the dance floor. The two-minute song also gives us the glimpse of actors Upasana Singh and Anupam Kher.
Watch| Varun Dhawan, Taapsee Pannu and Jacqueline Fernandez in Oonchi Hai Building 2.0
Varun and Taapsee launched the song at the rooftop of a mall in Jaipur with 50 other couples. Recently, in a Twitter chat with his fans, Varun, who will be bringing back Raja and Prem on the silver screen said that he learned a lot from the hard working Jacqueline and Taapsee.
Just like "Chalti Hai Kya 9 Se 12", Varun Dhawan made sure to keep the movie buffs waiting for the revamped version of the song. While he made Karisma do a step or two on "Tan Tana Tan", for this one he seen with the singer of the original hit Anu Malik crooning the chartbuster.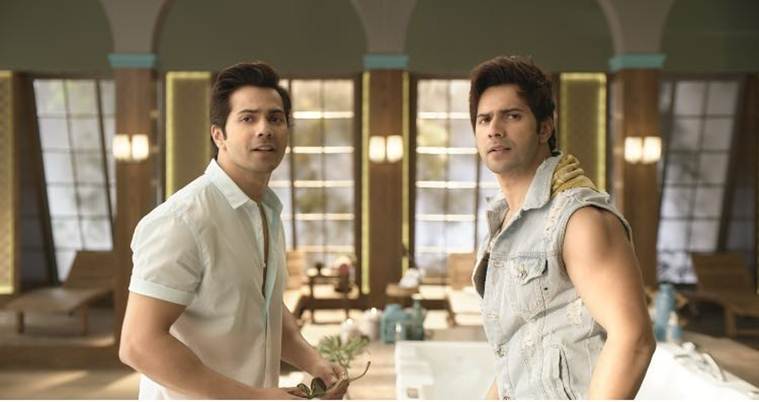 David Dhawan, who directed the original film in 1997, shared, "Oonchi hai building has in a way transcended time and has a huge universal appeal and I'm extremely humbled by the way it has received. The new song has retained the energy and spirit, while the new cast has given it their all for this song as I feel they wanted to live up to the expectation of the original chartbuster.
The choice again to retain this song is an ode to the spirit of Judwaa, we hope the people will accept this with all its youthfulness intact and probably 20 years from now this version does what the previous is still doing."
Watch Oonchi Hai Building starring Salman Khan, Karisma Kapoor and Rambha here:
Also read: Checkout Varun Dhawan look in Judwaa 2 first poster as Prem & Raja!