Have you put your vacation with your best friends on hold because you are busy at work? Are you counting days till Christmas or New Year to head off for a trip? Well, as the world celebrates World Tourism Day today (September 27), one thing that we know for sure is  — life is short and while plans are nice on paper, it is okay to let go and be your spontaneous best sometimes. With wonders of the world like The Grand Canyon, the Great Barrier Reef, the Reed Flue Caves of China beckoning to you — it is time you head out with your loved ones to one or more or all of these spectacular beauties.
Here are 15 places you must visit before you know in your heart that it's too late.
 ANGKOR WAT, CAMBODIA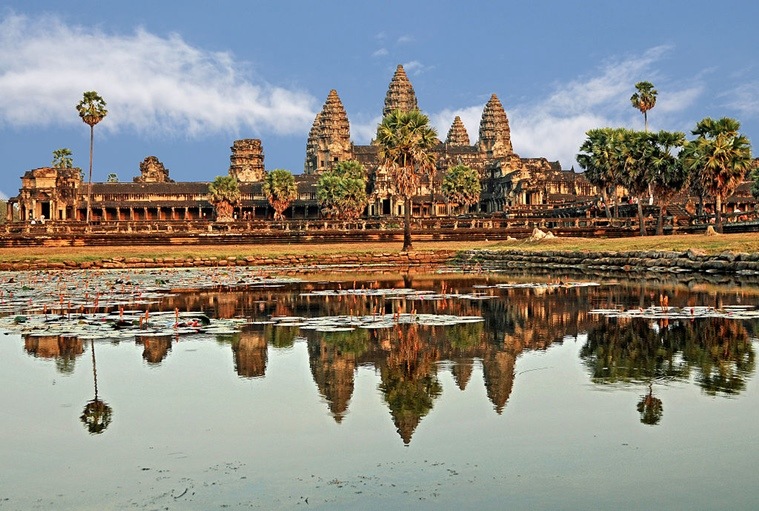 (Source: Dennis Jarvis/Wikimedia Commons)
The biggest religious historical monument in the world, Angkor Wat is where you should head to see a splendid architectural wonder for real. It is located in Cambodia in south east Asia.
ANTELOPE CANYON, ARIZONA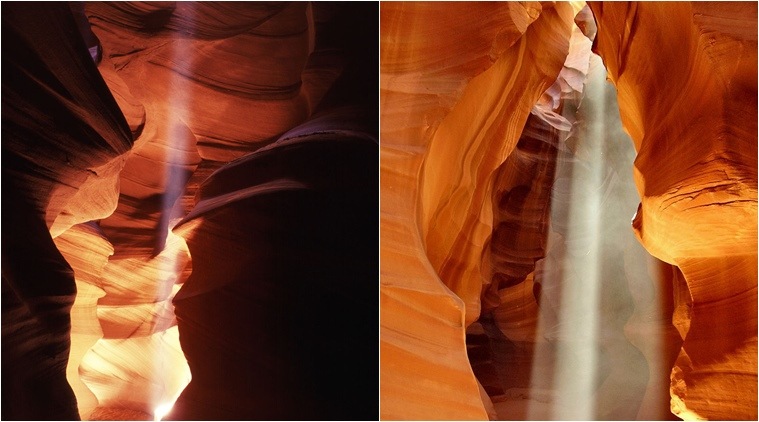 (Source: Lucas Löffler/Wikimedia Commons)
This natural scenic wonder has two separate canyon sections — The Upper Antelope Canyon and Antelope Canyon or The Corkscrew. While pictures might make it seem like clever photography, it is anything but that in real.
EASTER ISLAND, RAPA NUI, CHILE
(Source: Jantoniov/Wikimedia Commons)
While hiking and scuba diving make for interesting adventure sports around this region, the 887 Easter Island statues make for a spectacular sight to behold at the Rapa Nui National Park.
THE GRAND CANYON, ARIZONA
(Source: Tuxyso/Wikimedia Commons)
With massive rocks spanning over 200 miles, the Great Canyon, one of the wonders of the world, makes for a magnificent sight.
THE GREAT BARRIER REEF, QUEENSLAND, AUSTRALIA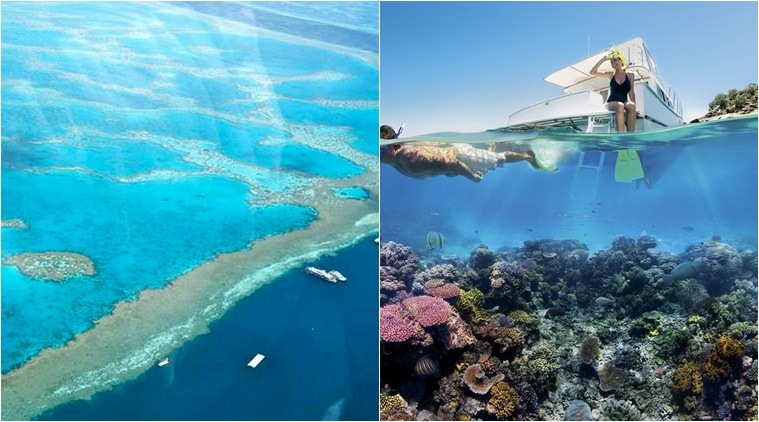 (Source: File Photo; Wikimedia Commons)
The largest collection of coral reefs in the world, the Great Barrier Reef is believed to be so large that is can be seen from space. If you are a beach bum, then this is just the place to head to for a surreal experience while scuba-diving.
THE GREAT BLUE HOLE, BELIZE, CENTRAL AMERICA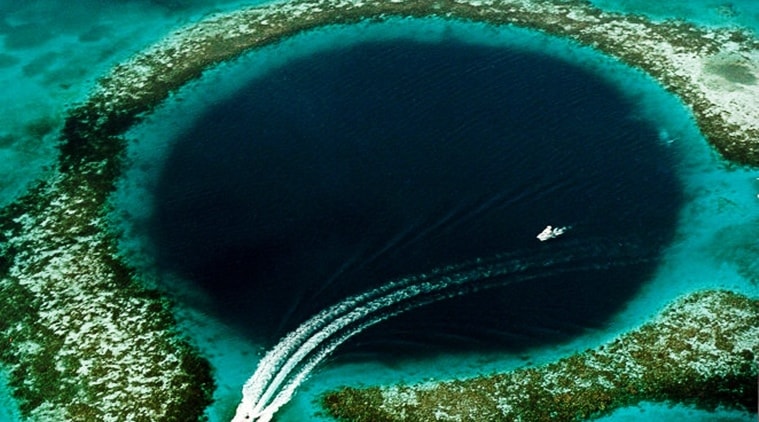 (Source; US Geological Survey/Wikimedia Commons)
A submarine sinkhole called The Great Blue Hole does not just make for a spectacular sight to watch, the water is also 407 feet deep and the hole 980 feet wide in this area.
THE GREAT WALL OF CHINA
(Source: Ahazan/Wikimedia Commons)
The ancient stretch, which is about 21,196 km in length, is not just a breathtaking sight to behold because of how enormous it is, that it is completely man-made also makes it a once-in-a-lifetime visit.
MACHU PICCHU, PERU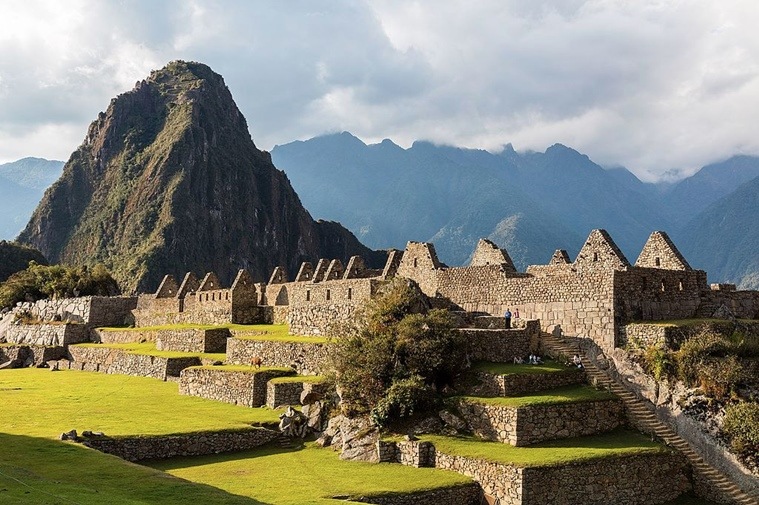 An ancient Inca historical site, Machu Picchu dates back to 15th century and is situated on the top of Sacred Valley. With beautiful scenery adding to its scenic beauty, you should pack your bags for this.
PLITVICE LAKES NATIONAL PARK

With beautiful waterfalls, lush greens and soothing blue water streams, head to Plitvice Lakes National Park to breathe in the fresh air and feel the love of nature.
REED FLUTE CAVES, CHINA

Nature's own nightclub maybe, the Reed Flute Caves is a natural limestone cave in China with multiple colours shining through it. Believed to be 180 million years old, tourists head to the cave to visit the incredible stalagmite, stalactite and pillar formations inside.
STONEHENGE, AMESBURY, ENGLAND

While it might just seem like massive piles of rocks, it is anything but that. Tourists head to this place to enjoy the English sun setting in all its glory.
TIANZI MOUNTAINS, CHINA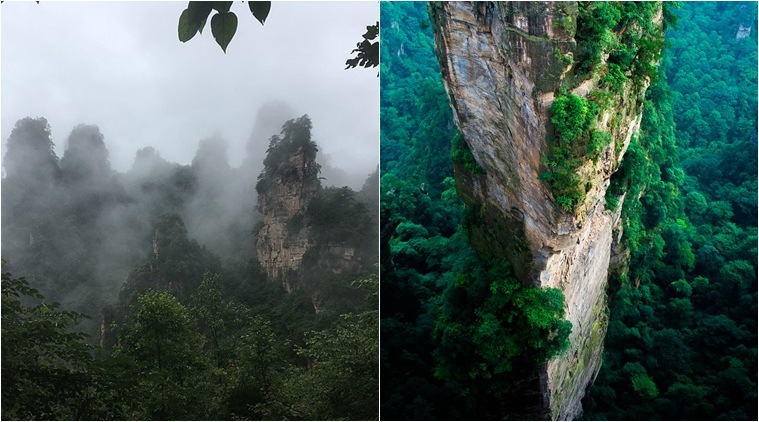 Spanning across 16,550 acres, these hanging mountains will leave you spellbound, to say the least. One of the most spectacular sights here is the Grand Prismatic Spring, which seems like a melting rainbow.
TAJ MAHAL, INDIA

A marvellous beauty reminiscent of Mughal emperor Shah Jahan's promise to his loving wife on her deathbed, one of the seven wonders of the world, the Taj Mahal is an architectural wonder as well.
VENICE, ITALY

With canals instead of roadways, gondolas for public transport and quaint, colourful houses, this dreamy place is a lovers' delight.
YELLOWSTONE NATIONAL PARK, USA

This National Park in the USA attracts a lot of tourists, thanks to the fascinating hot springs that it is home to.
So which of these beauties are you heading to? Let us know in the comments' section below.