Milind Soman returned to the ramp after a gap of six years at the Amazon India Fashion Week (AIFW). The 51 year-old-year showcased the athleisure collection of his active lifestyle brand, Deivee, that he founded in collaboration with Delhi-based designer Nida Mahmood.
For her collection, Mahmood derived inspiration from Indian women and India's rich culture, bright colours and traditional textiles. The comfortable silhouettes designed keeping in mind that it can be worn anywhere, be it a dance floor or a treadmill. The collection said to have made using 100 per cent recycled plastic bottles. Paying tribute to Soman's mother Usha Soman, who matched her son's steps, and ran barefoot at a marathon — in a sari, the athleisure collection included a running sari. A first of its kind, the design made sure it could worn across women of all ages and sizes.
Amazon India Fashion Week
Some extraordinary women graced the ramp as well. Mann Kaur, a 101-year-old runner who holds the record for running 100 metres for her age category and Dolly Singh, a plus size Yoga teacher were present, and so were V Nanammal, a 98 year old yoga teacher, and Anshu Jensempa, a world record holder for climbing the Mt Everest two times within a week. These women were the showstoppers of the show, who proved the world that strength and will power can defy age!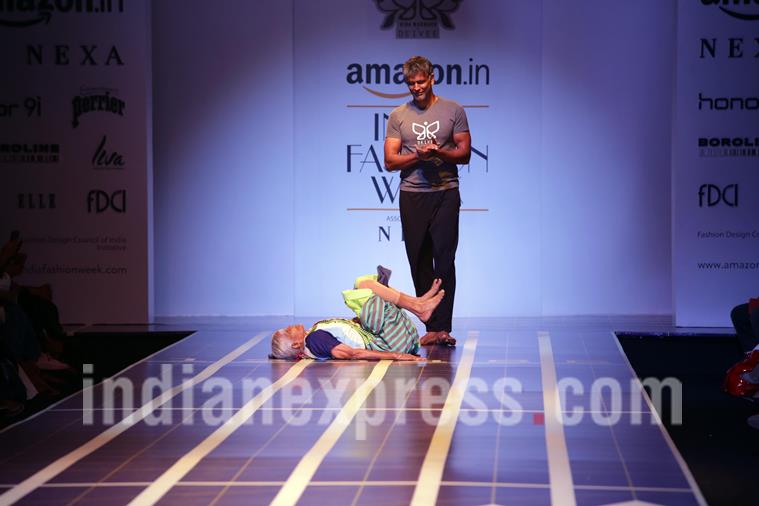 Soman's 78-year-old mother flaunted her yoga moves to the audience, who amazed by the lady's strength.