French government art experts are trying to find out, analyzing the sketch in a laboratory beneath the Louvre, the museum where the Mona Lisa hangs, to see if Leonardo da Vinci drew it before painting his 16th-century masterpiece.
The sketch, previously attributed to Leonardo's students, is part of a collection at the Musee Conde du Domaine de Chantilly, north of Paris. "This drawing is quite mysterious because we know it made in Italy, maybe in the studio of Leonardo da Vinci or by the master himself," said museum curator Mathieu Deldicque.
There are tempting clues that Leonardo's hand could have been behind the sketch. "For the moment we know that the paper on which this (sketch) is drawn was dated from the time of Leonardo da Vinci that is to say the beginning of the 16th century", Deldicque said in an interview. "We know that this paper comes from Italy, between Venice and Florence, so it is similar."
Museum's sketch
Imagery picked up other signs that may point to a sketch by Leonardo despite its "very worn elements", he said, noting the "quality" of the face and arms, which recalls the master. "The position of the arms is very important because it is literally (like) the position of the arms of the Louvre painting," Deldicque said.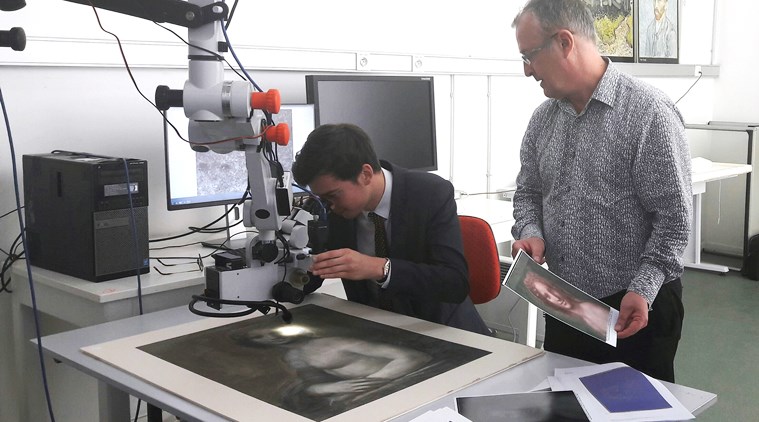 Chief curator of heritage, Bruno Mottin, examines a charcoal sketch through a microscope, depicting a nude woman.

However, Deldicque has said there were differences, including the way the subject holds her chest and the hairstyle. Art historians believe Leonardo drew or painted a nude version of the Mona Lisa. Deldicque acknowledged that the belief is feeding hopes that the Chantilly museum's sketch was indeed made by Leonardo's hand.
Among the array of clues under study is whether the artist of the sketch was left-handed. "We know that Leonardo da Vinci was left-handed and now we are just looking for the left-handed features," the curator said. But the task is difficult. "The drawing is very old, very fragile," he said, making it uncertain firm evidence will be uncovered showing that the charcoal nude was sketched with a left hand.
The government-run Center for Research and Restoration of the Museums of France says the sketch will stay out of the public eye until the examination by experts is complete.